Hunger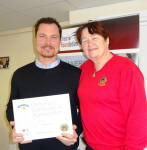 In February 2019, Stony Stratford Lions Club presented a Centennial Certificate
signed by Sophie, Countess of Wessex to Michael Bloedorn, Managing Director
of the Ihezie Foundation based at Kiln Farm. The award was in appreciation of the
invaluable support given to the local Lions Clubs and their Literacy and
Feed the Hungry programmes.
Ihezie Foundation sources books through their established relationships with some of the leading book retailers in the UK, as well as universities, student groups and academic publishing houses.
Their interest is in literacy building books and educational text books that will be of value to students of all ages in our beneficiary communities.
Books are sorted for shipping at our processing centre in Milton Keynes – we aim to donate and ship two 40 ft. containers per month to schools in the UK and Africa with each container holding at least 50,000 books.
They kindly allowed us to share their warehouse for our food cupboard with the other Milton Keynes Lions Clubs.